2017 Show Results
Saturday April 15th was the date of our 11th Annual Wheels Across The Pond.
The show attracted 267 British & European Cars and Motorcycles.
There were 42 classes and awards were presented for Best in Class, Class Runner-up and Class 3rd Place.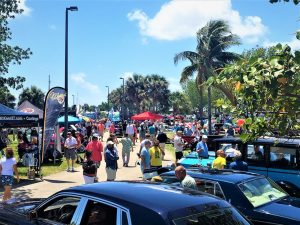 Below are the Results of our 2017 Show.
Class 1 – Austin Healey 3000
WINNER: #18 – Ed Buchbinder – 1967 3000 MkIII
Runner-up: #240 – Bob Hiller – 1961 3000 BT7
3rd Place: #195 – Ken Davies – 1966 3000 MkIII
Class 2 – Austin Healey (other)
WINNER: #69 – Tony Blevins – 1957 100-6
Runner-up: #11 – Anthony Flamino – 1959 100-6
3rd Place: #253 – John Maas – 1957 100-6
Class 3 – Bentley
Winner: #59 – Michael Holden – 1931 8 Litre
Runner-up: #149 – Guy Wyatt – 1929 4 1/2 Litre
Class 4 – Jaguar Sports '61-'68
Winner: #19 – George Hervert – 1961 E-Type
Runner-up: #48 – Timothy Murray – 1967 SKE
3rd Place: #Peter Rhoten – 1967 XKE
Class 5 – Jaguar Sports '69-'74
Winner: #57 – Jason Rosenzweig – 1974 XKE
Runner-up: #107 – Chris Lapinski – 1973 XKE
3rd Place: #60 – Steve Weinstein – 1970 XKE
Class 6 – Jaguar Sports – XJS
Winner: #124 – Rich Hartwell – 1986 XJS-C
Runner-up: #35 – Gary Forbus – 1996 XJS-C
Class 7 – Jaguar Sports – XK
Winner: #55 – Don Bottaro – 2002 XK8
Runner-up: #218 – Kim Hanes – 2004 XKR Convertible
3rd Place: #92 – Charlie Culver – 2007 XKR Convertible
Class 8 – Jaguar Sports – F-Type
Winner: #105 – Phil Davison – 2015 F-Type Coupe
Runner-up: #237 – Jack Schofield – 2015 F-Type Coupe
3rd Place: #16 – David Downing – 2015 F-Type
Class 9 – Jaguar Saloons
Winner: #151 – Peter Sales – 1962 Mk2 3.8
Runner-up: #71 – Fred Goldberg – 1968 3.8
3rd Place: #79 – Gil Petitone – 2002 XJ8
Class 10 – Land Rover
Winner: #33 – Geln Efinger – 1966 SWB
Runner-up: #13 – David Wright – 1971 Series 2A
3rd Place: #78 – Tim Slater – 1963 Series 2A
Class 11 – Lotus to 1981
Winner: #28 – Joe Petty – 1967 Elan
Runner-up: #62 – William Howell – 1966 23B/C
Class 12 – Lotus 1982+
Winner: #99 – David Zeitz – 2010 Evora
Runner-up: #177 – David Frost – 1997 Esprit V8
3rd Place: #65 – Gary Rein – 2005 Elise
Class 13 – MG (Prewar/T-Series)
Winner: #80 – Bob Horowitz – 1953 MGTD
Runner-up: #121 – Robert Lanier – 1933 J-2
3rd Place: 174 Tim Moylan – 1955 MGTF
Class 14 – MGB/C Chrome
Winner: #207 – Robert Kleiman – 1969 MGB
Runner-up: #216 – Ken Myers – 1971 MGB
3rd Place: 160 – Marco Sanai – 1972 MGB GT
Class 15 – MGB Rubber
Winner: #6 – Pat Grassick – 1978 MGB
Runner-up: #204 – Elias Baez – 1980 MGB
3rd Place: #170 – John Sergeant – 1977 MGB
Class 16 – Spridgets
Winner: #76 – Brian Hughes – 1968 MG Midget
Runner-up: #117 – Phil Burke – 1972 MG Midget
3rd Place: #259 – Steve Saffer – 1974 MG Midget
Class 17 – Classic Mini
Winner: #26 – Joe Mechado – 1976 Cooper
Runner-up: #191 – David Barrow – 1965 Austin Mini
3rd Place: #167 – Nickolas Howe – 1967 Austin Mini
Class 18 – Modern MINI
Winner: #144 – Mike Kennedy – 2004 Cooper S
Runner-up: #54 – Michael Rierson – 2008 Cooper S
3rd Place: #88 – Will Slater – 2009 John Cooper Works
Class 19 – Morgan
Winner: #137 – Gilbert Stegen – 1967 Plus 4 DHC
Runner-up: #40 – Peter McManemy – 1998 Plus 8
Class 20 – Morris Minor
Winner: #112 – Maureen Kerrison – 1971 Traveller
Runner-up: #224 – Adam Twinley 1967 Van
3rd Place: #189 – Valerie Brown – 1955 Convertible
Class 21 – Rolls Royce
Winner: #234 – Richard Hughes – 1921 Silver Ghost
Runner-up: #219 – Colin Gilbert – 1964 Silver Cloud III
3rd Place: #136 – Skip Waldman – 2004 Phantom
Class 22 – Sunbeam
Winner: #5 – John Swift – 1967 Tiger
Class 23 – Triumph to 1968
Winner: #102 – Wendy Palmer – TR3a
Runner-up: #29 – Warren Aplin – 1968 TR250
3rd Place: #91 – Dan Rourke – 1960 TR3a
Class 24 – Triumph 1969+
Winner: #114 – John Giltinan – 1971 Stag
Runner-up: #138 – Andrew Merlo – 1970 TR7
3rd Place: #129 – Brad Baumgartner – 1980 TR7
Class 25 – Triumph TR6
Winner: #10 – John Cookish – 1976 TR6
Runner-up: #67 – Michael Peronard – 1971 TR6
3rd Place: #45 – Robert Lambert – 1974 TR6
Class 26 – Triumph Spitfire
Winner – #44 – Bill Miller – 1970 Spitfire Mk3
Runner-up: #84 – Diosdado Perez – 1964 Spitfire
3rd Place: #113 – Don Gilbert – 1977 Spitfire
Class 27 – British Motorcycles to 1979
Winner: #173 – Mark Sepulveda – 1960 Velocette LE
Runner-up: #222 – Stephen Ebb – 1950 Vincent Metor
3rd Place: #203 – Design Center – 1969 BSA 441 Victor
Class 28 – British Motorcycles 1980+
Winner: #182 – Joanne Montero – 2014 Royal Enfield
Runner-up: #155 – Steve Luxton – 1983 Weslake
Class 29 – Triumph Motorcycles
Winner: #245 – Bob Gilbert – 1966 Bonneville
Runner-up: #209 – Shawn Leary – 2006 Thruxton
3rd Place: #152 – Chris Schumer – 1969 Bonneville
Class 30 – Norton Motorcycles
Winner: #161 – Bob Gilbert – 1971 Commando 750
Runner-up: #192 – Mark Peterson – 1975 Commando
3rd Place: #197 – David Salvador – 1972 Commando JPS
Class 31 – Matchless/AJS Motorcycles
Winner: #172 – Mark Sepulveda – Matchless 1950 Super Clubman G9
Runner-up: #169 – Bill Tracy – Matchless 1961 G80CS
Class 32 – European Motocycles
Winner: #200 – Walter Tymczyna – 2013 Aprilla Tuono V4R
Runner-up: #32 – Mark Hendrix – 1965 BMW R69S
3rd Place: #156 – Steve Luxton – 1975 George Wenn Jawa
Class 33 – Custom Motorcycles
Winner: #220 – A Ceceres-santamaria – 1985 BMW K100 Custom
Runner-up: #180 – Cory Gershberg – 1954 Harley/Triumph Trike Custom
Class 34 – Euroclass Cars
Winner – #133 – Barry Paraizo – 2005 Ferrari F430
Runner-up: #110 – Bill Gearhart – 1962 Innocenti 950
3rd Place: #96 – Alexander del Russo – 1965 Volvo P1800
Class 35 – Fiat
Winner: #61 – Angelo Figurella – 1978 Spider
Runner-up: #81 – George Ancheta – 1979 Bertone X 1/9
3rd Place: #141 – Roger Sowerbutts – 1980 200 Spider
Class 36 – Mercedes-Benz
Winner: #77 – Apollomia Silver – 1969 W109 SEL 6.3
Runner-up: #119 – Giovanni Di Stadio – 1970 SEL 6.3
3rd Place: #39 – Richard Raimist – 2012 C63 AMG Black Series
Class 37 – Porsche (other)
Winner: #104 – Phil Davison – 1963 356 BT6
Runner-up: #211 – Thomas Stukel – 1963 356B
3rd Place: ##111 – Thomas Willhite – 1964 356SC
Class 38 – Porshce 911
Winner: #221 – Richard Gifford – 1971 911T
Runner-up: #227 – Peter Perry – 1971 911 Targa
3rd Place: #36 – Larry Saxby – 1997 911 Carrera S
Class 39 – Volkswagen
Winner: #98 – Rojan Pauly – 1971 Type 2 "Magic" Bus
Runner-up: #2 – Frank Kohnan – 1967 Beetle
3rd Place: #58 – Michael Rose – 1968 Beetle
Class 40 – BMW
Winner: #146 – Andres Martinez – 1971 3.0CS
Runner-up: #243 – Gary York – 1972 2002
3rd Place: #166 – Benjamin Woods – 1993 E34 M5 Touring
Class 41 – British Other to 1970
Winner: #214 – James Archer – 1974 Jensen Interceptor
Runner-up: #183 – Henry & Rocky Grady – 1953 HRG 1500 Roadster
3rd Place: #46 – David Friswell – 1960 MGA
Class 42 – British Other 1971+
Winner: #66 – Linda Erendson – 1981 Delorean DMC12
Runner-up: #14 – Neil Archer – 1983 Ford Cortina 1.6 Crusader
3rd Place: #210 – Saul Silverman – 1986 Panther Kallista
Most Rust
#224 – Adam Twinley 1967 Van
Most Potential
#231 – Sandy Myers – 1955 MGTF 1500
Best in Show Runner-up
#59 – Michael Holden – 1931 8 Litre
BEST IN SHOW
#234 – Richard Hughes – 1921 Silver Ghost